Maine Coon Kittens for adoption . - Chitral
Sunday, 15 October 2017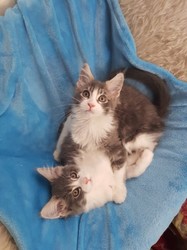 Item details
City:
Chitral, North West Frontier Province
Contacts

Chisameraduca@outlook.com
Item description
I have 2 beautiful full pedigree maine coon kittens for sale and are ready to leave for their forever homes now. I have only 1 boy and 1 girl left. They are both blue and white. They have been dewormed and had flea treatment, fully litter trained and have had their vaccinations, microchipped and health checked. Mum and dad are available to see and are both registered with TICA. They are both negative for HCM gene. They get on well with other cats and dogs. They all have a lovely temperament, very affectionate, love being around people and always want to 'help' with whatever you're doing around the house.